Welcome to Pandit Jasraj School of Music Foundation (PJSOM), Vancouver.
PJSOM is dedicated to promoting vocal music in the Mewati Gharana within the Lower Mainland of Vancouver, British Columbia, Canada. Our Mission is to promote classical Indian music through instruction and performance. PJSOM is the FIRST INDIAN CLASSICAL MUSIC SCHOOL OF THE MEWATI GHARANA in North America. We are proud to be under the divine guidance of our Guruji Sangeet Martand Padma Vibhushan Pandit Jasraj ji. Please visit our Concert page for information about the upcoming concerts. Please visit our classes page for details about the vocal lessons at the school.
Upcoming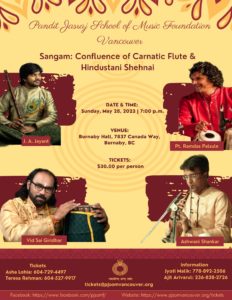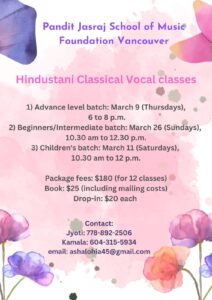 Past Events


Virtual concert by Shri Kedar Kelkar
Watch the virtual concert using this link.
Classes at PJSOM

PJSOM Newsletter 2020-2021
Please click here for PJSOM Newsletter 2020-2021 to learn more about our activities during the COVID-19 pandemic.
Shraddhanjali: PJSOM Vancouver's Tribute to Sangeet Martand Pandit Jasraj ji
In Memorium
PJSOM is deeply saddened to learn the demise of Dr. Mukund Lath. Please read this article authored by our Director teresa Rehman on Dr. Mukund Lath.
A minor planet is officially named after Pandit Jarsaj Ji!
Please visit our gallery page for pictures of our previous concerts.